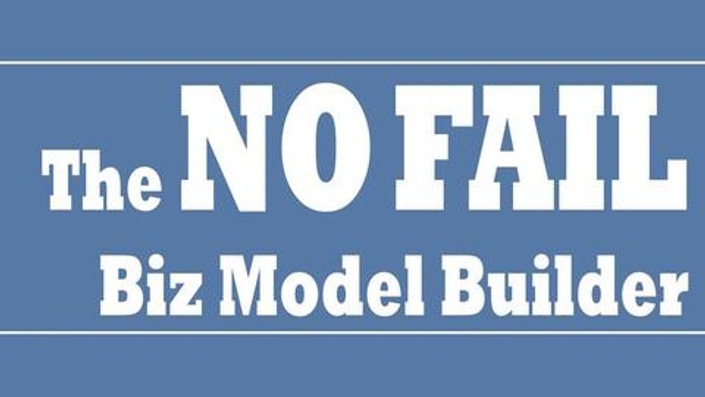 Create a No Fail Biz Model
Take your idea or current biz to the NEXT LEVEL.
"Loved the short, concise length of the videos. Also really like the complete pdf to use to fill in throughout the course. Easy to understand material, well researched and well delivered. Joe is a great teacher and makes very good points. I would definitely take another of his classes. Thanks Joe!"
- Sarah W
"Straight to the point no fluff, I recommend it to anyone starting a business or currently own a business."
- Mahmoud K.
*** *** *** *** *** *** *** *** *** *** *** *** *** *** *** *** ***
Do you have a business idea or current business that you want to set up for success?
If so, this class is for YOU.
You will learn the proven 3-step process to set up your business for long-term success.
In fact, let's get going right now. (why wait!)
Here are 3 steps we'll talk through in detail.
Ready?
Model success after those who have gone before you

You class project is to identify 5 aspects from successful businesses similar to yours that you want to model after. Then plug those aspects into what I call your Frankenbiz. Don't worry, I'll talk you through the entire process.

Add more value than anyone else
Be consistent with results & deliver unexpected joy
That's it. You create a business with that 3-step process and it can't fail.
Well, almost.
There's some other stuff we'll talk about like:
Knowing your WHY
A couple easy ways to test (this was my mistake on the first biz)
The 5 making mad-money questions you MUST ask yourself
The scarcity advantage
You even get a step-by-step Biz Model Builder PDF to print and fill out as you go through the videos. Each video corresponds to a section in the Biz Model Builder.
That way, by the end of the videos, you'll have your own NO FAIL biz model!
Your Instructor
As the youngest VP at an award-winning New York City advertising agency, I worked directly with the world's top brands (Microsoft, Pepsi, Sony, Chase, etc.), successful start-ups, and start-ups with flawed business models that failed.
I took notice.
I decided to leave the ad agency world last year because it wasn't fulfilling. Life's too short to do stuff I don't care about.
But, I didn't know what the heck to do.
I thought I had a good idea and spent $3,000 on it. It didn't work.
Then, I followed the model I'm teaching in this class and BOOM – things worked out.
I actually had customers before the darn thing was officially created!
It's called Fairless Investing. In just six months, I made it profitable and it controls over $6,500,000 of assets.
I'm teaching you what I've experienced personally AND what I've learned from the best companies (and not so best).
Frequently Asked Questions
When does the course start and finish?
The course starts now and never ends! It is a completely self-paced online course - you decide when you start and when you finish.
How long do I have access to the course?
How does lifetime access sound? After purchase, you have unlimited access to this course for as long as you like - across any and all devices you own.
What if I am unhappy with the course?
We would never want you to be unhappy! If you are unsatisfied with your purchase, contact us in the first 30 days and we will give you a full refund.
"I can't believe how informative a class that took be 2 days to finish could be. The insight from this class is honestly amazing and necessary. I also love that he provided materials and resources for the class. I would definitely recommend this class to anyone who is thinking about taking it, totally worth it!"
- Jasmine R.
"Joe has incredible insights from a diverse range of business experiences, all in competitive, fast pace environments. His class provides a clear and implementable playbook for success in starting your own business."
- Tony M.
"This was a great concise, brief class that offer some solid, core advice for folks starting or building their own business. He gives the essentials and framework that's not only inspiring, but very logical."
- Kimberly G.
"His care for putting together a thorough class is evident, and the worksheet helped me come to some helpful realizations about my business."
- Tash M.
"Very good teaching style, specially because of the cheat sheet... I have printed several copies and plan to give them out to my entrepre-friends..."
- Christiano N.
"Really great class. I like that he got down to business and told us the steps. I worked out my business plan and came up with some more efficient ideas. I have been in business for years and have never done a business plan. This helps me realize why I haven't succeeded at the level that I could have. It isn't talent, it is lack of preparation. This course is preparing me. I would recommend this class."
- Kia P.
"Joe's class is very clear and easy to work on. His one on one meeting with you is priceless. It's important to get an "outside" look at your business model and Joe is very thoughtful and gives some great advice."
- Sam A.
"Hi Joe! Great class. It was easy to get through in a couple of hours, while taking enough time to do the research and complete the No Fail Biz Playbook. I thought the playbook was excellent and I had some ah ha moments that will definitely influence how I run my business. Thanks so much!"
- Sara D.
"Very helpful class. Was looking for information to guide me through some early struggles with my small business. Very pleased with the results."
- Josh B.
"This class was great! The videos were very insightful! Having taken Joe's classes before, this course didn't disappoint! Joe is a wealth of knowledge and a great instructor!"
- Alison P.
"Joe is incredible. He breaks down the most important pieces of info. for you to create a business in a way that's relevant and helps you draw in the right customers. He also teaches you how to add more value than the competition in a way that makes sense for your business. Each video is filled with just the right amount of wisdom. You're going to love the course!"
- Theresa C.
"As someone preparing to take the plunge into the world of entrepreneurship and owning my own business, Joe's class really helped put a lot of things into perspective. I would highly recommend his class to both seasoned entrepreneurs looking for a different spin and fresh motivation, or those aspiring entrepreneurs out there looking to get their feet wet."
- Logan A.
"Clear. succinct. finished in no time and learned a bunch. thanks, mr. fairless!"
- Adam T.